For more information about or to volunteer for these ministries contact Patti Eastwood at
pattieastwood@ollmlb.org
or (321) 723-3636
Liturgical Ministries
To login to our NEW Schedule software, click HERE.
Art and Environment volunteers decorate the church for the liturgical seasons and major feasts.
Extraordinary Ministers of Holy Communion distribute Holy Communion during Masses. Some Extraordinary Ministers also take Communion to the sick in hospitals, homes, and nursing homes. 
Must be a Catholic in good standing
Attend a Diocesan workshop.
Be commissioned by the Orlando Diocese.
Be trained as to our procedures.
Gift Bearers present the gifts of bread and wine during Mass.
Readers proclaim the Word of God to the assembly at Mass.  Anyone with a love of Scripture, a strong speaking voice and self-confidence in front of people is welcome in this ministry.
Servers assist the priest during Mass. Anyone in 3rd grade or older is welcome in this ministry. Family teams are welcome. 
Sacristans are lay persons in ministry dedicated to and responsible for the setup and cleanup of the Mass.
 Hospitality Ministry includes the following opportunities:
Greeters are those who welcome people at the doors of church.
Ushers assist people in finding seats, directing the communion lines and taking up the offerings of the people. Anyone high school age or older (male or female) is welcome to serve.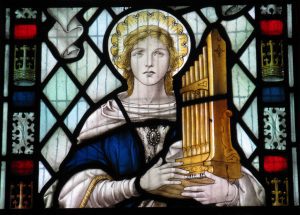 Music Ministries
Music Ministry includes the following opportunities:
10:30 am Mass Choir leads the music for 10:30 am Masses and for special parish celebrations. Anyone junior high school age or older who likes to sing is welcome to try out for the choir. Choir rehearses on Thursday evenings from 7:00 pm to 8:30 pm and on Sundays at 9:45 am.
Contemporary Group leads the music for the 6:00 pm Mass on Sunday evenings.  This group utilizes modern Catholic and Christian music in a rock band style manner.
Spanish Choir leads worship at the Spanish Mass at 6:00 pm, which is both contemporary and traditional Spanish music.
Hand bell Choir adds to the music at weekend liturgies on an occasional basis. Rehearsals are on Thursdays from 6:00 to 7:00 pm in the Church. Anyone high school age or older who reads music or is willing to learn is welcome.

Cantors lead the assembly's singing as well as sing solo portions of the liturgy. Anyone with a good singing voice is welcome to try out for this ministry.

Instrumentalists add to the music at liturgy by playing various brass, woodwind, percussion and string instruments. Anyone who has had training on an instrument is welcome.