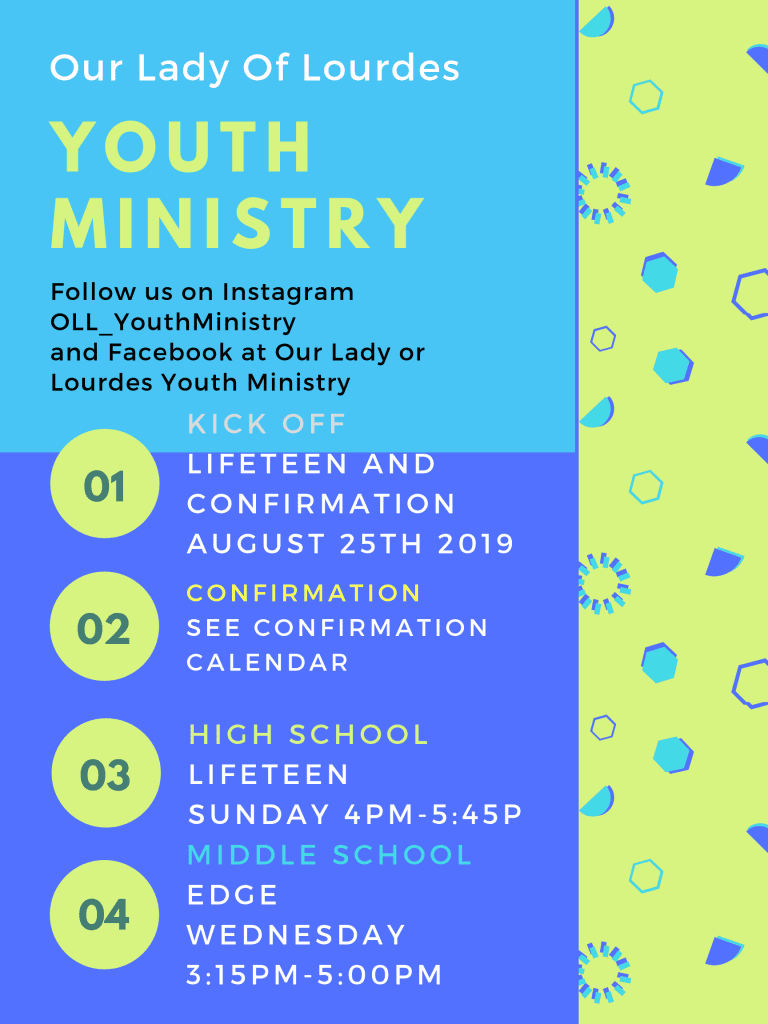 OLL Youth Group is a place to find uplifting community. We will learn about the continuing relevance and importance of Catholicism, deepen our faith, and make lifelong friendships and memories.  It is open to any students in the area.  There is no fee, but we do ask parents to help us stay stocked with snacks such as bagel bites and chips etc.
1808 Hickory St, Melbourne, FL 32901
"It must be explained to the faithful that the reception of the sacrament of Confirmation is necessary for the completion of baptismal grace. For 'by the sacrament of Confirmation, [the baptized] are more perfectly bound to the Church and are enriched with a special strength of the Holy Spirit." (CCC1285)
Confirmation Forms: Review, sign and turn in all forms and $50.00 Confirmation fee to the Parish Office. Students must be in High School to be confirmed.
Confirmation Retreat Dates: 2019 Fall Retreat Nov. 23rd  &  2020 Spring Retreat May 10th
Confirmation Rehearsal: Wednesday May 27th at 7pm at OLL Church.
Attendance needed of  Confirmation Student and their Sponsor. 
Confirmation Mass: Friday, May 29th at 7pm at OLL Church.
Youth Ministry Calendars 2019/2020 Fall Semester
LIFETEEN Fall Semester Calendar. Note the time change for LIFETEEN from Sunday 7pm to Sunday 4pm before Mass and note the time change for EDGE from Wednesday 6pm to Wednesday 3:15pm.  This is to allow family dinner and time for completing homework. Wednesday evening 6pm there will be free tutoring and bible study. Please provide feedback on the time changes! 
2019_2020 Youth Ministry Calendar
Upcoming Youth Events