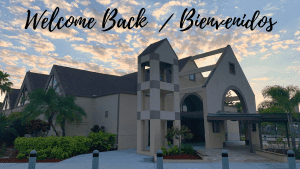 We are excited to be able to celebrate Mass with the Community present in the church.
We are looking forward to your joining us but need to share a few reminders:
Saturday
 The church will be open at 3:00 pm for people coming for Mass and Confessions.
Confessions from 3:00 – 3:45 pm
Mass 4:00 pm (English)
Church closed for sanitizing and then opening at 5:30 pm
Mass 6:00 pm (Spanish)
Sunday
Church will open at 7:30 am
Mass – 8:00 am
Church closed for sanitizing after Mass and opening at 10:00 am
Mass – 10:30 am
Church closed for sanitizing
NO 6:00 pm Sunday Mass
Seating Requirements
Staff will be present and they are required to seat you.  We are doing this to maintain social distancing and to be able to maximize the 25% of people permitted in the church.  For this reason SEATING IS LIMITED and the possibility exists that you may not be able to be seated.
Offertory Donations
Ministers will not be passing a basket at offertory.  Baskets will be located at the entrance of the church for you to place your donation envelopes.
Daily Bread Boxes
In addition, there will be baskets for your Daily Bread Boxes which were given out during Lent.
Rite of Communion
There will not be a procession to receive Communion.  You are asked to stay at your seat either standing or kneeling and a Priest or Deacon will come to you.   Communion will be distributed in the hand only.  There will be no distribution of Precious Blood.  If you desire to receive on the tongue, please see a Priest or Deacon after Mass.
---
Saludos de Nuestra Señora de Lourdes. Estamos emocionados de poder celebrar la Misa con la comunidad presente en la iglesia.
Esperamos que se una a nosotros, le pedimos de todo corazón mucha paciencia en este nuevo proceso que estamos enfrentando.
A continuación le compartimos algunas cosas que se estarán haciendo de manera diferente:
Sábado
La iglesia estará abierta a las 3:00 pm para las personas que vienen a la Misa de 4:00pm y a las confesiones.
Confesiones de 3:00 a 3:45 pm.
Misa 4:00 pm (Inglés)
Al terminar la Misa cerraremos la iglesia para desinfectar y limpiar, luego la iglesia será abierta nuevamente a las 5:30 p.m.
Misa 6:00 pm (Español)
Le pedimos por favor al terminar la Misa salir de la iglesia manteniendo la distancia de 6 pies o 2 metros.
Domingo
La iglesia abrirá a las 7:30 a.m.
Misa (Inglés) – 8:00 am
Al terminar la Misa cerraremos la iglesia para desinfectar y limpiar, luego la iglesia será abierta nuevamente a las a las 10:00 a.m.
Misa(Inglés) – 10:30 a.m.
Al terminar la Misa cerraremos la iglesia para desinfectar y limpiar.
Por el momento no tendremos Misa dominical
a las 6:00 pm
*Instrucciones a seguir al momento de llegar a la iglesia:
El personal de la iglesia estará presente en la entrada y le indicarán donde debe sentarse. Entendemos que quizás esto sea un poco incómodo pero estamos haciendo esto para mantener el distanciamiento social de 6 pies o 2 metros y así poder aprovechar al máximo el 25% de las personas permitidas dentro de la iglesia. Por esta razón le debemos recordar que la capacidad de ASIENTOS ES LIMITADA y existe la posibilidad de que no pueda entrar a la iglesia.
*Donaciones de ofertorio
No pasaremos una canasta en el ofertorio. Las canastas estarán ubicadas en la entrada de la iglesia para que pueda colocar su contribución o sus sobres de donación
*Cajas de Daily Bread
Además, habrá canastas para sus cajas de Daily Bread que se entregaron durante la Cuaresma.
*Rito de comunión
No habrá procesión para recibir la comunión. Se le pide que permanezca en su asiento ya sea de pie o arrodillado y un sacerdote o diácono vendrá a usted para ofrecer el cuerpo de Cristo.
No habrá distribución de la sangre preciosa.
La comunión se distribuirá solo en la mano, si desea recibirla en la lengua, consulte al sacerdote o diácono para que reciba la comunión después de la Misa.
Mass Times
Celebration of the Most Holy Eucharist
ALL THE MASS AND LITURGICAL CELEBRATIONS ARE LIMITED FOR THE 25% OF THE CHURCH CAPACITY UNTIL FURTHER NOTICE, JOIN US FOR MASS ON LINE.
Daily:
7:30 am Church is open for Pray
8:15am Monday – Friday
10:00 am – 2:00pm  Church is open for Pray
Saturday Vigil Mass:
 4:00pm (English) and 6:00pm (Spanish)
Sunday Mass:
  8:00am, 10:30am
Reconciliation:
Wednesday 10:00 am – 11:00 am
Saturday 3:00pm – 3:45pm or by appointment, please call (321)723-3636 to schedule.
Adoration of the Blessed Sacrament
 10:00 am to 11:00 am and 5:0\30pm to 6:30pm  Wednesdays in the Church.
Anointing of the Sick:
Before and after masses, and by appointment. Call the office for info (321)723-3636.
Mission Statement
"Our Lady of Lourdes is a diverse Catholic community centered in the Eucharist striving to live the virtues that embody the Kingdom of God."
Sign-up for OLL Parish E-News