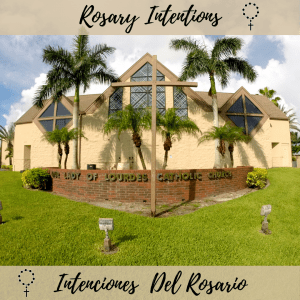 Greetings,
I pray that you are all safe and well. We live in fast-changing times with multiple challenges. We must turn to Our Lord in prayer and ask that He continue to protect our parish, our school, and our families. As a Marian parish, we have a special relationship with Our Blessed Mother. We must turn to her now and ask for her intercession and protection. She is our Mother and our Queen.
As such, I am asking every parishioner to begin praying a daily Rosary for the intentions of Our Lady of Lourdes Parish, Our Lady of Lourdes School, and the families of Our Lady of Lourdes. If possible, please begin this daily Rosary at 7 PM. As we pray together, although we are physically separated, we form a powerful blanket of prayer. Every day we will include a special intention (Click here to download
July 2020 Rosary Intentions
)
I know that many in this parish are not able or not ready to come back to Mass. Please know that you are in our prayers and in our hearts. Your prayers – united with all of us – will be particularly important. Please know that we long for the day when we are all reunited.
Thank you for joining us in this beautiful prayer and this holy undertaking.
May Our Lord bless the parish, our school, and each of our families in this time of uncertainty. Our Lady of Lourdes, Pray for us!
Deacon Dan
—-
Rezo para que todos estén sanos y salvos. Vivimos en tiempos de cambios rápidos con múltiples desafíos. Debemos recurrir a Nuestro Señor en oración y pedirle que continúe protegiendo nuestra parroquia, nuestra escuela y nuestras familias. Como parroquia mariana, tenemos una relación especial con Nuestra Santísima Madre. Debemos recurrir a ella ahora y pedirle su intercesión y protección. Ella es nuestra madre y nuestra reina.
Como tal, les pido a todos los feligreses que comiencen a rezar un Rosario diario por las intenciones de la parroquia de Nuestra Señora de Lourdes, la escuela de Nuestra Señora de Lourdes y las familias de Nuestra Señora de Lourdes. Si es posible, comience este Rosario diario a las 7 PM. Mientras oramos juntos, aunque estamos físicamente separados, formamos una poderosa capa de oración. Todos los días incluiremos una intención especial que pueden descargar haciendo click aquí
Intenciones del rosario del mes de julio
Sé que muchos en esta parroquia no pueden o no están listos para volver a Misa. Por favor, sepa que está en nuestras oraciones y en nuestros corazones. Sus oraciones, unidas con todos nosotros, serán particularmente importantes. Tenga en cuenta que anhelamos el día en que nos reunamos.
Gracias por acompañarnos en esta hermosa oración y esta santa empresa.
Que Nuestro Señor bendiga la parroquia, nuestra escuela y cada una de nuestras familias en este momento de incertidumbre. Nuestra Señora de Lourdes, ruega por nosotros!
Dios te bendiga,
Diácono Dan